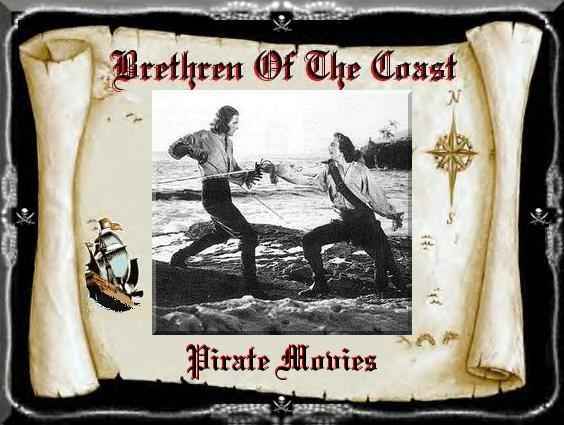 Over the last century there have been dozens of movies made about pirates. Some makers of these films have gone to great lengths to build realistic looking sets and pirate ships. They staged elaborate sea battles, and filmed on actual historical locations. However very few of these movies give an accurate account of the real history about the pirates and their lives. Most are based on fiction, or alter the historical facts around the real pirates they portray. Many great book authors have entertained generations of readers much the same way with their stories and adventures of fictitious pirates. There is nothing wrong with this, and there is no reason why the movies should not do the same. But the fact remains that the lives of some of the real pirates and their adventures are just as fasinating and exciting as any of these works of fiction.




As a life long fan of the pirate movies I wanted to share some of my favorites classics as well as some lesser known films that others have enjoyed. I compiled the list below and hope it helps those interested in these type of films which I highly recommend to all of my brethren visitors. Some of these movies are currently available to buy or rent in the video marketplace. But most of the older ones that were filmed in black and white are now very hard to find, some having never been released on VHS or DVD.



Swashbuckler and Pirate Movies



AGAINST ALL FLAGS
1952 ~ Errol Flynn, Maureen O'Hara, Anthony Quinn - A spy for the English (Flynn) infiltrates a major pirate haven.

THE BLACK PIRATE
1926 (silent) ~ Douglas Fairbanks, Sr. - A nobleman pushed too far by a mob of cuthroats. Features one of the most famous swordfight scenes ever filmed. Silent with original music score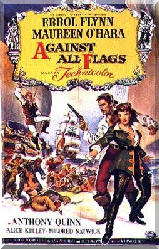 THE BLACK SWAN
1942 ~ Tyrone Power, Maureen O'Hare, Anthony Quinn - A high-seas adventure about a dashing pirate intent on rescuing a beautiful woman. Based on the Sabatini book of the same title.

BLACKBEARD'S GHOST
1968 ~ Peter Ustinov, Dean Jones, Elsa Lancaster - Fun Disney film with Peter Ustinov as the infamous Blackbeard.

BLACKBEARD THE PIRATE
1952 ~ Robert Newton, Linda Darnell, Irene Ryan - Newton is rambunctious as a 17th century buccaneer, with lovely Darnell his captive.

THE BOY AND THE PIRATES
1960 ~ Charles Herbert, Susan Gordon, Murvyn Vye - A young boy is magically transported back in time to an 18th century pirate ship on the high seas.

THE BUCCANEER
1938 ~ Frederic March - About Jean Lafitte and the Battle of New Orleans.

THE BUCCANEER
1958 ~ Yul Brynner - a good remake of the 1938 film.

CAPTAIN BLOOD
1935 ~ Errol Flynn - A must see classic pirate epic with Flynn starring in his first swashbuckler. Based on Sabatini's novel of the same name. Dr. Peter Blood is a british physician unjustly sentenced to slavery for aiding a wounded rebel. Bought by the niece of a brutal plantation owner, Blood eventually escapes by overtaking a ship. Once on board, Captain Blood embarks on a series of swashbuckling adventures.

CAPTAIN HORATIO HORNBLOWER
1951 ~ Gregory Peck, Virginia Mayo - Exciting, well-produced sea epic based on C.S. Forester'S british naval hero of the napoleonic wars.

CAPTAIN KIDD
1945 ~ Charles Laughton, Randolph Scott - A pirate double crosses the King of England after making a deal to safeguard a fleet of treasury ships from india.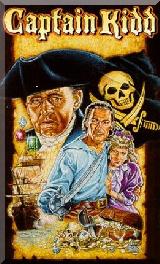 CAPTAIN KIDD AND THE SLAVE GIRL
1954 ~ Anthony Dexter, Eva Gabor, Alan Hale Jr. - Entertaining cast.

CAPTAIN PIRATE
1952 ~ Louis Hayward - Sequel to "Captain Blood", based on Sabatini's novel "Capt. Blood Returns".

CARRIBEAN
1952 ~ John Payne, Arlene Dahl, Sir Cedric Hardwicke - A revenge minded pirate fights a greedy plantation owner.

THE CRIMSON PIRATE
1952 ~ Burt Lancaster, Nick Cravat - A well done funny spoof of pirate movies.

CUTTHROAT ISLAND
1995 ~ Gena Davis, Matthew Modine, Frank Langella - This adventure pits a tough man and an unconventional woman against greedy thieves and pirates. Good action scenes, great locations and costumes.

THE DEVIL-SHIP PIRATES
1964 ~ Christopher Lee, Barry Warren, Suzan Farmer - The plot is fairly typical but very well told. It has a bit more depth than your standard swashbucklers. Also Christopher Lee excels in the role of the nasty Captain Robeles.

DOUBLE CROSSBONES
1950 ~ Donald O' Connor, Helena Carter, Will Geer - A light comedy about a young man who after being falsely accused of dishonesty decides to become a pirate.

FIRE OVER ENGLAND
1937 ~ Laurence Olivier, Flora Robson - Spain and England fight it out on the high seas.

FORTUNES OF CAPTAIN BLOOD
1950 ~ Louis Hayward, Patricia Medina - A meager remake of "Captain Blood".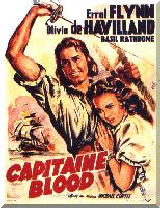 FRENCHMAN'S CREEK
1944 ~ Joan Fontaine, Arturo de Cordova, Basil Rathbone, Nigel Bruce - Based on the novel by Daphne du Maurier about a French pirate.

THE GOLDEN HAWK
1952 ~ Rhonda Fleming, Sterling Hayden - Based on the book by Frank Yerby.

HOOK
1991 ~ Dustin Hoffman, Robin Willimas, Bob Hoskins, David Crosby - An entertaining adventure which has an adult Peter Pan fighting the evil Hook.

THE ICE PIRATES
1984 ~ Robert Urich, Mary Crosby, Anjelica Huston - A light hearted comedy about space pirates.

ISLAND
1980 ~ Michael Caine - A modern day pirate tale based on the novel by Peter Benchley.

THE KING'S PIRATE
1967 ~ Doug McClure, Guy Stockwell - A well done remake of "Against All Flags".

LAST OF THE BUCCANEERS
1951 ~ Paul Henreid, Jack Oakie, Karin Booth - This very good swashbuckler is about the adventures of Jean Lafitte. Set after he helped to save New Orleans from British invasion during the war of 1812.

LONG JOHN SILVER
1954 ~ Robert Newton, Kit Taylor, Connie Gilchrist - Newton does an outstanding job in his role of the fictional pirate Long John Silver.

MAGIC ISLAND
1995 ~ Andrew Divoff, Zachery Ty Bryan - A 13-year old discovers a fantastic new world that lies beyond the pages of a magical book about pirates. Jack gets whisked into the book itself, and encounters land sharks, beautiful mermaids, duels & danger during his breathtaking adventure on Magic Island.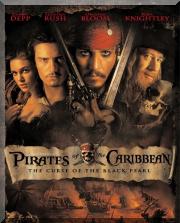 THE MASTER OF BALLANTRAE
1953 ~ Errol Flynn - A classic starring Flynn as a Scottish Lord driven from his family and homeland then forced to join in with pirates.

THE MASTER OF BALLANTRAE
1984 ~ Richard Thomas, Michael York, Timothy Dalton - A dismal remake of the 1953 classic.

MORGAN THE PIRATE
1961 ~ Steve Reeves, Valarie Lagrange, Chelo Alonso - A well-rounded pirate adventure. This was truly one of Reeves best movies.

MUPPET TREASURE ISLAND
1996 ~ Tim Curry, Kevin Bishop, Jennifer Saunders - A muppet twist on the classic tale.

NATE AND HAYES
1983 ~ Tommy Lee Jones, Michael O'Keefe - Jones plays the part of Captain Hayes who is transporting a couple to an island to be married. The evil captain of another ship raids the island and takes it's inhabitants as slaves to sell. Hayes gets blamed and has to fight to get the couple back. The chemistry between Tommy Lee Jones and Michael O'Keefe is perfect and the score to the film is sweeping and epic. Good pirate adventure, highly recommended.

PIRATES
1986 ~ Walter Matthau, Cris Campion, Damien Thomas - A well meaning film which looks good but falls short in the story line.

PIRATES OF THE CARIBBEAN: The Curse of the Black Pearl
2003 ~ Johnny Depp, Geoffrey Rush, Orlando Bloom - A very entertaining disney adventure with plenty of action, humor and thrills.

THE PIRATES OF PENZANCE
1983 ~ Kevin Kline, Angela Lansbury, Linda Ronstadt, Rex Smith - This movie is an fair adaptation of Gilbert and Sullivan's comic operetta of the same name.

PIRATE OF THE BLACK HAWK
1961 ~ Mijanou (Brigette) Bardot, Gérard Landry - A routine low budget pirate adventure filmed in Italy/France. Also known as: Pirate de l'épervier noir, Le (1958).

PIRATES OF THE PLAIN
1999 ~ Tim Curry, Seth Adkins - A pirate and his ship is transported through a time warp to Nebraska. A farm boy and the Pirate captain fight the crew for a buried treasure. Shot on location in South Africa. THE PIRATE MOVIE
1982 ~ Christopher Atkins, Kristy McNichol - A light-hearted musical comedy. If you are a fan of true Gilbert and Sullivan, then this movie is NOT for you.

PIRATES OF THE SEVEN SEAS
1965 ~ Steve Reeves - Based on the novel "The Pirates of Malaya".

PIRATES OF TORTUGA
1961 ~ Ken Scott, John Richardson - This one is about Sir Henry Morgan's adventures.

THE PIRATES OF TRIPOLI
1955 ~ Paul Henreid, Patricia Medina.

PORT SINISTER
1953 ~ James Warren, Lynne Roberts, Paul Cavanagh - More of a 50's low budget sci-fi than a pirate adventure. About the legendary pirate town of Port Royal rising from the sea.

PRINCE OF PIRATES
1953 ~ John Derek, Barbara Rush, Carla Balenda - A very entertaining pirate film, with an excellent cast.

THE PRINCESS BRIDE
1987 ~ Peter Falk, Billy Crystal - A story of how Wesley leaves his love 'Buttercup' promising his return, to make his fortune and meets "his end" with the Dread Pirate Roberts.

QUEEN OF THE PIRATES
1960 ~ Gianna Maria Canale, Massimo Serato, Scilla Gabel - A 16th century sea captain and his daughter escape false charges by running away to become pirates.

RAGE OF THE BUCCANEERS
1962 ~ Ricardo Montalban, Vincent Price - Standard low budget pirate flick.

RAIDERS OF THE SEVEN SEAS
1953 ~ John Payne, Donna Reed, Lon Chaney Jr. - A hollywood tale about a pirate named Barbarossa.

RETURN TO TREASURE ISLAND
1954 ~ Tab Hunter, Dawn Adams - Standard tale.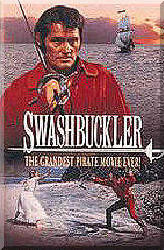 RETURN TO TREASURE ISLAND
1985 (6-part mini-series) ~ Brian Blessed, Christopher Guard - Well made Disney pirate adventure which teams Long John Silver with an adult Jim Hawkins.

SEA DEVILS
1953 ~ Yvonne de Carlo, Rock Hudson - Another standard pirate film.

THE SEA HAWK
1940 ~ Errol Flynn - An exciting adventure drama about an english pirate, who upon learning that the Spanish plan to invade his native England with their armada, rushes back to save Queen and country. Great ship scenes.

THE SON OF CAPTAIN BLOOD
1962 ~ Sean Flynn - Errol's son Sean trys his hand in films as a swashbuckler.

THE SPANISH MAIN
1945 ~ Paul Henreid, Maureen O'Hara - A pirate captain takes on a greedy Spanish governor.

SWASHBUCKLER
1976 ~ Robert Shaw, James Earl Jones, Peter Boyle - An excellant pirate movie with all the classic thrills.

THREE LITTLE PIRATES
1946 ~ Moe Howard, Curly Howard, Larry Fine - The usual zany antics are here from these comic masters in this classic short film.

TREASURE ISLAND
1934 ~ Wallace Beery, Jackie Cooper - First Film Adaptation Of Robert Lewis Stevenson'S Classic 1883 Novel.

TREASURE ISLAND
1950 ~ Robert Newton - This exciting live action production of the classic Robert Louis Stevenson pirate tale was the best of them all, With Newton magnificent as the infamous treasure seeker Long John Silver. After this movie, Newton continued his role in the Disney TV series.

TREASURE ISLAND
1972 ~ Orson Welles, Kevin Burfield - Welles portrays Long John Silver in this version of Robert Louis Stevenson's pirate tale.

TREASURE ISLAND
1990 ~ Charlton Heston, Christian Bale, Oliver Reed, Christopher Lee - This made for TV version is one of the best adaptions of the classic novel.

YANKEE BUCCANEER
1952 ~ Jeff Chandler, Scott Brady - Standard pirate tale with a good cast.

YELLOWBEARD
1983 ~ Peter Cook, Graham Chapman, Peter Boyle - Classic satire with an all star cast. Yellowbeard, a pirate's pirate, is allowed to escape from prison to lead the authorities to his treasure.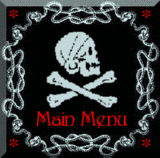 This Webpage Was Last Updated On: Apr. 10, 2005

---
Copyright © 2000-2005 KAL/BrethrenCoast. All Rights Reserved.