Yearnin' fer pirate plunder Swabbie?
Heres some of me favorite places to visit in
the vast cyberseas... the adventure begins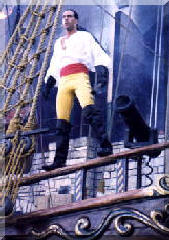 * The Adventures of Dorianne the Pirate - A well done original story based pirate site.

* All Hands on Deck - Fun pirate site for names and games.

* Beej's Pirate Image Archive - Still the best source on the web for historic and classic pirate graphics.

* The Bilge Pumps - They be a good sounding fun bunch of scurvy blokes.

* Captain Blood's Cove - Pirate site containing pictures, nautical information, mermaids, poetry, and much more.

* Captain Raven's Sea Dogs of the Eighteenth Century - General information on piracy as well as biographies of individual pirates and some things on life in the Royal Navy.



The Complete Dictionary of Piracy - Comprehensive dictionary of piratical terminology, phrases, and "colorful wordage".



Gentlemen of Fortune - has information to help the dedicated reenactor to portray the men and women of the golden age period.

* The History of Pirates - Contains just a few short biographies on pirates.

* International Talk Like a Pirate Day - Arrggh! I'm surrounded by bloomin' rug rats with a speech impediment... shiver me timbers.



Jolly Roger - Pirate History - With short biographies of some of the more famous pirates.

* Le Diable Volant - French site mainly about 17th century pirates. With an english version fer us less fortunate souls.

* Maritime History on the Internet - An excellent resource with many nautical research links.

* The Mother of All Maritime Links - This site is truly unbelievable, with tons of links.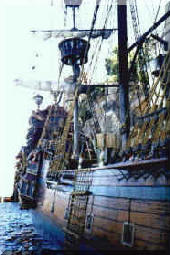 * Morningstar - Not about pirates but one of my favorite places on the internet to explore anyway.

* Nautical Expressions in the Vernacular - Maritime phrases from O'Brian's novels explained.

* No Quarter Given - Great source fer all things piratical.

* ODP Piracy Links - Links to some of the most popular pirate sites on the net.

* The Piracy Pub - A pirate discussion group from the cutthoats of "No Quarter Given" magazine.

* Pirates - General information site done by a school class..... many years ago.

* Pirates! - A National Geographic magazine site created for kids.

* Pirates of the Caribbean - Collection of historical information on piracy which includes biographies of famous pirates and a bibliography.

* Pirates - Fact & Legend - A bit of history and biographies. Also sells pirate flags and T-shirts.

* The Pirate's Hold - Contains a large collection of pirate biographies. Also has general information on pirates, movies, books, and flags.

* A Pirate's Life! - A treasure chest of pirate facts and activities for grades K to 3.

* The Pirate's Life - Golden Age of Piracy site with biographies, source info, ships, flags, and links.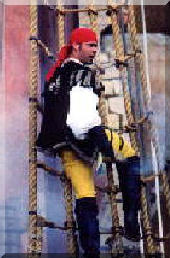 * Pirate's Plunders - Small but interesting information about pirates.

* The Pirate's Realm - Very informative site which includes information on ships, flags, weapons, and tactics.

* The Pirate Ship - Yer basic info on pirates, corsairs, bucanneers, and other lowdown sea robbers.

* Pirate Treasure Hunts - Unique site idea with weekly updates and a newsletter that gives tips on treasure hunting.

* Pyrates Providence - Information about piracy during the Golden Age with, biographies, ships and treasure.

* Pirate Visual - Good lookin' site with a pirate story for all ages.

* SchoonerMan - Schooners and Tall Sailing Ships. Well Done

* Swashbuckler's Cove - Nice site which has plenty of pirated plunder.

* Terror of the Sea Pirate Song - Original music for the pirate minded.

* Thistles & Pirates - Explores the history of pirates and privateers from ancient times to the present.

* Yahoo Piracy Links - Yahoo's mighty list of links.






Pirate Games



* Ace Pirate Murder Mystery Party Game - A swashbucklingly good pirate party game for 8 to 10 players.

* Blackbeard Lives - Play online pirate game

* The Captain's Cabin - A RPG group site dedicated to the disney studios movie, Pirates of the Caribbean.

* Cutthroats - An excellent pirate computer game.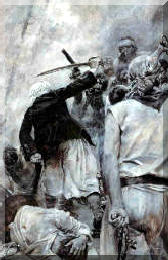 * Cutthroats and Pirates - This fine site was built around pirate gaming, and role playing. Also has a nice selection of music and images.

* Escape from Monkey Island - The fourth in a series of pirate adventure games.

* The Lost Tavern - Another site dedicated to the original Pirates game.

* Pirates of the Caribbean - Computer/X-Box game which was originally developed to be Seadogs 2. It's storeline was quickly altered to be loosely based on the popular disney movie.

* Pirate Envy - Pirate RPG game inspired by the movie Pirates of the Caribbean.

* The Pirate Hideout - A fansite for the pc game Pirates of the Caribbean, offers gaming tips, walkthroughs and downloads.

* Pirate Junk - An online roleplaying game based around life at sea in 1860's China.

* Pirateer - The classic board strategy game.

* Plundered Hearts - Another computer game

* Port Royale: Gold, Power and Pirates - A computer game with daring adventures, exploration and sea battles on the cyberseas.

* Redhook's Revenge - Pirate Educational board game.

* Sea Dogs - A very good nautical adventure computer game with good 3D graphics.

* Seadogs - An online nautical adventure.



Sid Meier's Pirates - Live the life of a golden age pirate on this great updated version of Sid's classic pirate PC game.



Shiver Me Timber - A pirate-themed roleplaying game, set in the year 1641.

* YoHoHo! Puzzle Pirates - A multi-player online roleplaying game in which you play a Pirate character in an ocean world. For Pirates who love acronyms.






Museums and Nautical Sites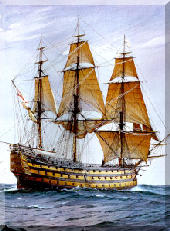 * Alexandria Seaport Foundations Seaport Center - boat building and marine science.

* Australian National Maritime Museum - nice site about the nautical history museum.

* The Columbus Fleet - a Texas based museum.

* Cuban Piracy Museum - Lodged in the Morro Castle of Santiago de Cuba.

* Expedition Whydah - about the shipwreck Whydah, lost in a storm off Cape Cod. She was the ship of the infamous pirate Sam Bellamy.

* Flagship Portsmouth - Historic Dockyards in England

* Independance Seaport Museum - current site of the "Under the Black Flag" exhibit.

* Jean Lafitte Pirate Museum - all about this famous swashbuckler.

* Kendall Whaling Museum - worth a look if your interested in whaling history.

* The Mariners Museum - located in Newport News, VA

* Maritime History - A Guide to Maritime History Information on the Internet.

* The Maritime History Virtual Archives - good source of referance information.

* Maritime Museum of the Atlantic - good site about the nautical history museum.

* Maritime Museums - Master Index of Maritime Museum Websites

* Mystic Seaport - All about the historical port and museum in Mystic, Connecticut.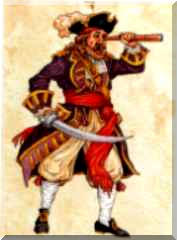 * The National Maritime Museum - located in Greenwich, UK

* New England Pirate Museum - The unique and little-known history of New Englands sea-robbers.

* North Carolina Maritime Museum - well done about the eastern shore museum.

* Online Nautical Dictionaries - in several languages



Pirate Soul - history museum dedicated to the exploits of Caribbean pirates.

* The Port Royal Project - Excellent site about the archaeological investigation of the sunken city.

* San Diego Maritime Museum - Homeport of the "Star of India"

* San Francisco Maritime Nat'l Hist. Park - contains information about regional nautical history.

* Ships of the Old Navy - A history of the sailing ships of the Royal Navy.

* Silver Bank - National Geographic site on shipwrecks.

* South Street Seaport Museum - located in New York City.

* Texas Seaport Museum - home of the "Elissa"

* Treasure Pirates of the Whydah - interesting hunt for sunken treasure ships.

* USS Constitution Museum - a site devoted to "Old Ironsides".






Pirate Traders and Merchants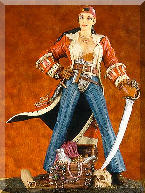 * Artistamp Rubber Art Stamps - Specializing in images of pirates, mermaids and other maritime themes.

* Blackbeard.co.uk - Games, pirates pictures and toys, treasure maps, pirate party supplies, and nautical gifts.

* Blue Sea Trading Company - Has pirate books, games and various nautical trinkets.

* Captain's Cove - Tons of stuff like Jewelry, Clothing, Clocks, Bells, Nautical Decor and Collectables.

* Carlisles Historic Clothing - Embroidered Doublets, Cloaks, Blackwork Shirts, breeches, and rapier fighting garb. Perfect for Renaissance Faires, SCA, Historic Weddings or any event.

* Cdockpirates - The site for all yer pirate and nautical flags needs.

* Chivalry Sports - Sells period weapons, clothing, jewelry, books and music.



Dress Like A Pirate.com - Pirate and renaissance re-enactment quality clothing costumes, jewelry, weapons, pewterware, gifts.

* Forecastle Treasures - Mainly about selling coins and treasure from the "Atocha".

* International Shanty and Seasong Association - This be the place to go if your lookin' to buy shanties on CD's.

* Pirate Books and Films - List compiled by Jacqueline Church Simonds, author of Captain Mary, Buccaneer. All items listed may be purchased on Amazon.com.

* Pirate's Den - Pirate's Cove Gift Shop - All the gear any old scallywag worth their salt could ever want.

* Pirate and Gypsy Costumes - To impress that favorite wench you need to dress for success... ARRGGGH!!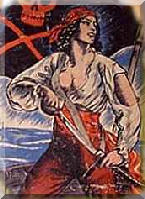 Pyrate Leatherworx - Handcrafted leather items for the distinguished pirate. They make several styles of pirate hats, belts, pouches, arm bracers & more.

* The Pirates Library - Theres lots of great stuff here including books, toys, party supplies and flags.



Piratemerch.com - Sells shirts,flags and gifts.

* Pirate Mod - Skull & Crossbones T Shirts, Tank Tops and Collectibles.

* The Pirate's Treasure - Great site.... sells weapons, jewelry, coins and artifacts.

* Salty Jack's Piratical Books - Has plenty of readin' treasure fer young and old alike.

* Sunken Treasure - A general grave robbers site with info and artifacts from various sea disasters.

* Teach's Hole - Very good pirate speciality shop. Sells pirate books, toys, flags, t-shirts, hats, jewelry, maps, art, music, and party supplies.

* Treasures by the Sea - Has lots of nautical plunder for your captain's cabin.

* Treasure Net - Treasure search, recovery, preservation, books, maps, magazines, associations, etc.

* Wooden Ship Music - Sounds ta make a salty sea rodent smile... ARRGGGH!!





Lookin' fer more plunder matey?
Then check out me other links on
the pirate biographies page here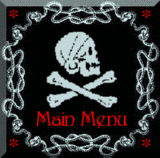 This Webpage Was Last Updated On: Apr. 10, 2005

---
Copyright © 2000-2005 KAL/BrethrenCoast. All Rights Reserved.